When we teach related (or unrelated) diversification, we emphasize the case where the competencies from the existing business don't transfer to the new industry (or perhaps the rare case where participating in two industries has disadvantages).


However, there are cases where diversification runs aground by being too successful — at least in the IT industry with its increasing returns to scale. I recall in the 1990s, Microsoft spent a lot of money trying to sell settop boxes based on Windows CE, while the cable TV oligopoly was quite clear that they were not going to make IBM's mistake and transfer their distribution channels and market power over to Microsoft.

At lunch today, I read in yesterday's Wall Street Journal that Universal Music is threatening to not renew its annual contract with the iTunes store. In fact, today's Information Week reports that Universal will not renew its contract at all, but instead offer its content at will, free to change the terms or pull out at any time.

Universal is taking a big risk: the NY Times article suggests that the iTunes store accounts for about 10% of the revenues of Universal Music (70% x 15%), or about €500 million of its €5 billion annual music sales.

Of course, there are a lot of disagreements between the record labels and Apple, the largest being that they want to charge consumers more per song and Steve Jobs thinks that's a bad idea (except for its iTunes Plus premium service). But the WSJ (and other) articles make the explicit link to the label oligopoly being averse to surrendering any more of their supplier power than they already have:
Music companies generally consider the mobile market the next frontier for their business, and are loath to let Apple dominate it that market the way it has digital downloads.
In the short term, having Universal withdraw from iTunes would be bad for consumers (lack of one stop shopping), but it could be good in the long run if it increases competition. It wouldn't matter much to me, since I have 10 purchased iTunes songs and 3,600 songs that I personally converted from CDs.
Still, having followed the music industry's information age strategies for the past five years, I suspect that Universal is doing the wrong things for the wrong reasons. The record labels seem to be better at asserting their naked market power to protect an old order that will soon be gone, rather than aggressively creating a new future more to its liking. At least EMI is trying new strategies — there are risks to their strategies, but there is more risk in doing nothing.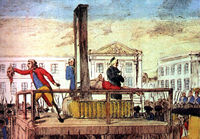 Since Universal is owned by Paris-based Vivendi, perhaps its executives are spending too much time trying to emulate Louis XIV. Not
a rewarding path to follow,
unless you are eager to enjoy
pie in the sky when you die
or the attention of 72 willing virgins.
Technorati Tags: Apple, diversification, iTunes, music industry, Universal Music